Albert Irvin BIRD (1925-2008)
Welcome
Albert Irvin BIRD (1925-2008) Project
Vera Lee MARTIN Bird Project Manager
established 2007
Photo below: Albert Irvin BIRD (1925-2008) in 1942, while in the US Merchant Marines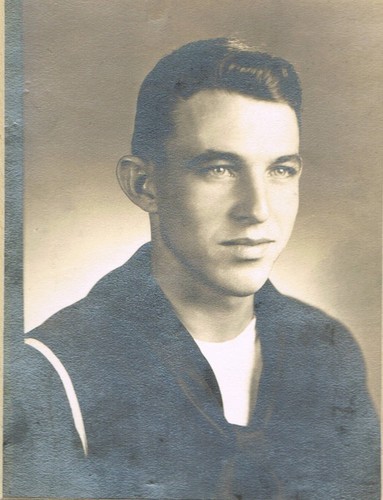 Albert Irvin BIRD (1925-2008)
(Profile)
Terry Louis Linton © 1987
(First Published) Direct Genealogy Lineage of Thomas Jefferson Bird Sr. (1861-1931) And Drusilla Gay (1867-1948) (book, Terry L. Linton © 1987) (Linton Research Fund, Inc., Publication © 1987) (First Revision, February © 1989) (Second Revision, December, © 1991, (Third Revision, May, © 1995,) (printed in Spotsylvania County, Virginia, USA)
Linton Research Fund Inc., Publication © 1987
LINTON & BIRD CHRONICLES, Volume IV, Issue 3, Fall © 2009, ISSN 1941-3521
ALBERT IRVIN BIRD (1925-2008) was born on March 31, 1925, in Dallas, Dallas County, Texas. Albert was the sixth child of sixteen children born to Jeff Augustus "Gus" BIRD (1893-1954) & Clara Myrtle GRAY-SADLER Bird (1900-1988)
Albert's father was a plumber by trade, his job had taken the BIRD Family from Fort Worth to Dallas in 1924. While living in Dallas, Texas, Albert was born on March 31, 1925. Albert's brother Donald Milton BIRD (1926-1999) was born December 9, 1926.
In 1927, Albert and the Bird family moved to Brownsville. Albert's grandfather Thomas Jefferson BIRD (1861-1931) and grandmother Drusilla GAY Bird (1868-1948) had just opened up and were the owners and operators a grocery store in Edinburg, Hidalgo County, in the Rio Grande Valley of south Texas. After staying with his mother and father, for a while, Gus' family found a place to live in just across the county line, in Harlingan, Cameron County, Texas. On April 17, 1928, Albert's sister Margaret Drusilla BIRD Norwood was born. In 1928, Albert's father was working in Galveston, Texas.
The Bird family then moved to Austin in 1929. According to the April 12, 1930 Austin City, Travis County, Texas Censes: The Bird Family was living in Precinct 3, on Jueinto Street. They lived between the Learnard ALLEN family and the Benjamin BURNILL family. Their rental house was valuated at $20. The Head of Household, was Jeff G. Bird, age 36, with wife Clara M Bird age 29, Edward G. Bird age 11, Earl A. Bird age 10, Myrtle E. Bird age 9, Evelyn V. Bird age 7, Jeff A. Bird age 6, Albert I. Bird age 5, Donald M. Bird age 2, and Ducella M. Bird age 1. Two more members were added to the BIRD family, while in Austin. On May 20, 1930, Iva Lee BIRD Bryant was born and Carlton Norris BIRD was born on November 21, 1931.
The BIRD family next moved to Fort Worth, Texas. Albert attended Riverside High School, in Fort Worth, Tarrant County, Texas. When Albert was seventeen, still in school and working for BIRD Plumbing and Heating, Albert joined the Merchant Marines. 1
In 1945, while on leave from the Merchant Marines and visiting his Bird family, who had move to Arkansas, Albert was drafted into the US Army. According to his Military Draft Records, Albert was designated for the Hawaiian Department: Branch, Infantry; Branch Code, Infantry; Grade, Private; Grade Code, Private; Term of enlistment, for Hawaiian Department; Component, Regular Army; Education, 2 years of high school; Civil Occupation, Farmer; Marital Status, Single, without dependents. Albert was listed as a farmer, because his father had moved to Arkansas and perched an 360 acer farm. 2 Albert reported on November 29, 1945, to US Army Camp Wolters, Texas Albert spent the next four years in Germany during the occupation.
In 1950, Albert met Vera Lee MARTIN. Albert's sister, Iva Lee BIRD Bryant (1930-1993) who was working at Southwest Bell Telephone Company, introduced him to her co-worked Vera. "It was love at first sight." just two months later they became engaged. Albert was called back into the Army and sent to Korea, so they put their wedding plans on hold.
While in the Army Reserves, the Korean War (1950-1953) broke out and Albert was called back into active duty and was sent to Korea. On February 15, 1951, Albert was seriously wounded when his squad, from 1st Calvary, where moving forward while riding on a tank. All were killed except Albert, who was blown into a ice cold stream and was found much later. Albert returned to the States and spent several months at Walter Reed U S Army Hospital in Washington D C. (named after Albert's 4th cousin twice removed). Then Albert was sent to Brooke U S Army Hospital in San Antonio, Texas, for recovery. After having many surgeries, he received a medical retirement discharge and was awarded the Purple Heart. 3
On June 26, 1951, while he was still stationed at Brooke US Army Hospital, Albert Irvin BIRD married Vera Lee MARTIN, in Fort Worth, Tarrant County, Texas. Vera Lee MARTIN is the daughter of JAMES Oscar MARTIN (1877-1976) and FANNIE Mable ANDERSON (1888-1976).
Vera Lee MARTIN was born on April 25, 1931, in Cleburne, Johnson County, Texas. Vera Lee MARTIN was the youngest of twelve children born to James and Fannie Martin: Edna Mable MARTIN (1903-1908), Edna Mable MARTIN (1905-1992), William Edgar MARTIN (1908-1993), James Harvard MARTIN (1910-1982), Evelyn Rosella MARTIN Watson (1912-2006), Atha Mae MARTIN Massengale (1914), Holland Ambros MARTIN (1917-1918), Clemmie Arlyne MARTIN (1919-2008), John Regan MARTIN (1921), Elza Dwayne MARTIN (1924), Martha Jewel MARTIN (1927-1933), Ver Lee MARTIN Bird (1931). 4
The MARTIN family lived on a ranch outside Cleburne until Vera Lee was nine years old. She attended elementary school in Brazos Valley, Burton, and Bono. In 1940, the family moved into Cleburne where she attended J. N. Long Elementary School. Vera Lee graduated from Cleburne High School in 1948. Then moved to Fort Worth, where she attended Brantley Draughan Business College. In 1950, she went to work at Southwest Bell Telephone Company.
After his discharge, Albert returned to Fort Worth and went to work for his father at Bird Plumbing and Heating company, where he worked with his father and brothers. In the years that followed Albert worked for many other contractors, traveling to many jobs in other states including the Alaska Pipeline. In 1980 he started his own plumbing company and retired in 1985. Albert and Vera Lee first made their home in Fort Worth, Texas. In 1960, they moved to Bedford, Tarrant County, Texas, where they lived for twenty-three years. 5 While living in Bedford, Vera worked as a bookkeeper for Boyles Galvanizing Company. Then she was the office manager for Morrow Investments in Hurst. In 1985, Albert and Vera Lee retired and moved to Granbury, Hood County, Texas. They became active in Comanche Peak Good Sams Club and also do volunteer work for People Helping People.6
Albert Irvin BIRD and Vera Lee MARTIN Had two children:
i. Jan Elizabeth BIRD was born on February 14, 1952, in Fort Worth, Tarrant County, Texas.

ii. Alan Ray BIRD was born on October 14, 1953, in Fort Worth, Tarrant County, Texas.
Albert Irvin BIRD died October 10, 2008 in Burleston, Tarrant County, Texas. Albert was buried with full military honors at the Dallas Fort Worth National Cemetery, Dallas County, Texas, on October 15, 2008.
_________________________________
Footnotes
1. Wikipedia, the free encyclopedia The United States Merchant Marine refers to the fleet of U.S. civilian-owned merchant ships, operated by either the government or the private sector, that are engaged in commerce or transportation of goods and services in and out of the navigable waters of the United States. The Merchant Marine is responsible for transporting cargo and passengers during peace time. In time of war, the Merchant Marine[1] is an auxiliary to the Navy, and can be called upon to deliver troops and supplies for the military.
2. National Archives and Records Administration. U.S. World War II Army Enlistment Records, 1938-1946 [database on-line]. Provo, UT, USA: The Generations Network, Inc., 2005. Original data: Electronic Army Serial Number Merged File, 1938-1946 [Archival Database]; World War II Army Enlistment Records; Records of the National Archives and Records Administration, Record Group 64; National Archives at College Park, College Park, MD.
3. Oral interview with Albert Irvin BIRD, July 3, 1990, Birdsboro, PA., by Terry Louis Linton.
4. MARTIN Family Research by Lucy Ann Martin (1905-1992)
5. Albert and Vera Bird, 50th Anniversary, June 26, 2001, by Alan Ray Bird and Jan Elizabeth BIRD Wunderlich Kavanagh. © 2001
6. Albert and Vera Bird, 50th Anniversary, June 26, 2001, by Alan Ray Bird and Jan Elizabeth BIRD Wunderlich Kavanagh. © 2001
______________________________________
**********************************************
Descendants of Albert Irvin BIRD (1925-2008)
How are you related to Albert Irvin BIRD (1925-2008)
Find-A-Grave Albert Irvin BIRD (1925-2008)
Albert Irvin BIRD (1925-2008) Legacy.com Memorial Websites
Albert's Mother, Clara Myrtle GRAY-SADLER Bird (1900-1988)
Albert's Father, Jeff Augustus "Gus" BIRD (1893-1954)
Albert's 3rd great-grandfather, Mark BIRD (1739-1812)
Albert's 4th great-grandfather William BiRD (1706-1761)
Descendants of Ironmaster William BIRD (1706-1761)
_________________________________________
Linton Research Fund, Inc., HOME PAGE
Past BIRD Articles from the BIRD Chronicles
Past LINTON Articles from the LINTON Chronicles
History of the Linton Research Fund Inc., LINTON & BIRD Chronicles
Who is having a Birthday or a Anniversary today
The LINTON & BIRD Chronicles on Facebook
"Thanks for Visiting, come back when you can stay longer" Terry Louis Linton © 2007

Linton Research Fund Inc., Publiaction © 1987-2018
Below: Albert Irvin BIRD (1925-2008)