William Bird (1706-1761) Brief Historical Sketch
Welcome to the BIRD Chronicles
William BIRD (1706-1761)
Brief Historical Sketch
Terry L. Linton © 1982
First Published A Brief Bird Family History (booklet, Terry L. Linton © 1982
Linton Research Fund inc., Publication © 1988
Linton & Bird Chronicles Volume II, Issue 2, Spring © 2007, ISSN 1941-3521
William Bird (1706-1761)
William Bird was born in Hopewell East New Jersey, now known as Raritan, Somerset County, New Jersey. William was christened as Wilhelm Bird in 1706, at the old Dutch Reformed Church at Hopewell, East New Jersey Colony.
On March 19, 1941, Historian, Montgomery wrote "Andries Bort, or Andrew Bird was the father of William and Burgoon Bird.." William was one of the first setters in the Nanataway Valley region of present day Berks County, Pennsylvania.
In the early 1730's William was a cordwood contractor cutting wood for Pott's Warwick Iron Furnace and Pine Forge. William served his Iron master apprenticeship under Pennsylvania's first Iron master, Thomas Rutter at Colebrookdale Furnace the first iron furnace in Pennsylvania. William was the Iron master at the following: Pine Forge; New Pine Forge; Birdsboro Furnace; Birdsboro Iron Works; Durham Furnace; and Roxborough Furnace.
By 1740 William Bird had established his Birdsboro Iron Works on the West Branch of Hay Creek, where it empties into the Schuylkill River. In 1744 he built the "Bird Manor House" out of brownstone adjacent to his Birdsboro Forge and Birdsboro water grist mills. This house is still standing in downtown Birdsboro today. By 1751 William Bird had finished the "Bird Mansion" and layout out the site for a town around it. This town became known as Birdsboro. In 1752 Berks County was formed out of Philadelphia, Chester and Lancaster Counties.
William was directed in 1752, to "purchase a piece of land situated in some convenient place in the town of Reading and there on to erect and build a court house and prison, sufficient to accommodate the public service of the said new county".
Also in 1752 William was appointed one of the first five Justices of the Peace of the newly formed county of Berks.
In 1761, William was re-appointed as a Justice of the Peace. William was the first Schuylkill River Improvement Commissioner of Berks County. William was the first Commissioner of Roads of Berks County.
In 1753, He was instrumental in establishing the St. Gabriel's Episcopal Church for his workers at Birdsboro Furnace. It was located in the old building used by the Swedish Lutheran Congregation, in Morlatton, now Douglassville, Berks County. William Bird was one of the first two trustees chosen for the new church. William was elected the first Vestryman of St. Gabriel's Episcopal Church.
This is a partial listing of the properties owned by William Bird: Hopewell Iron Works, Grist Mill and Saw Mill (all known later as Birdsboro Iron Works and Mills); Birdsboro Iron Works, Grist Mills and Saw Mill; Upper, Middle and Lower Pine Forges; Sands Forge; Roxborough Furnace; over 8,000 acres of land located mostly in what is now Union Township and the rest in Robeson Township, Berks County, Pennsylvania.
According to his Obituary Notice in the Pennsylvania Gazette: "William Bird Esq., died November 16, 1761, of apoplexy, in his town home in Reading, Berks County, PA.". William Bird was buried in the St. Gabriel's Episcopal Church Cemetery in Morlatton, Berks County, Pennsylvania. William's gravestone reads: "In Memory of William Bird, Esq., who departed this life November 16th, 1761, Aged 55 years."
William Bird's Bird Mansion is a two-an-a-half story, brownstone structure that was later plastered white. It was later doubled in size by his son, Mark Bird. In 1821, the Schuylkill Canal was dug between the mansion and the river, at that time the road leading to the front of the mansion was changed to the back. Iron master, Matthew Brooke and his wife, Elizabeth, the successor owners to the Birdsboro Iron Works lived in the Bird Mansion until the canal was dug, then they moved to Reading. The Bird Mansion was made into a hotel by later owners, catering to canal traffic.
After the canal trade ended it became a private residence again. The Bird Mansion, with financial aid from the Brooke Family and public subscribers, became a Community Memorial Hall in 1919. In honor of the local Veterans of World War I. In the 1930's it was made a "Community Memorial" and the new Y.M.C.A. building. William Bird's Mansion located on Mill and Main Streets is still used today as the Y.M.C.A., Community Center.
********************************
William Bird's (1706-1761) "Bird Mansion" illustration by J. B. Bradly, 1987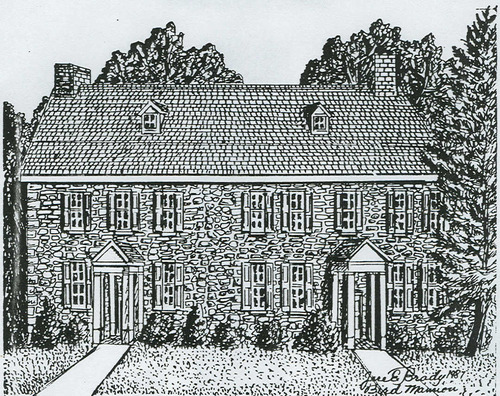 Main Menu
Linton Research Fund, Inc., HOME PAGE
Past LINTON Articles from the LINTON Chronicles
Past BIRD Articles from the BIRD Chronicles
History of the Linton Research Fund Inc., LINTON & BIRD Chronicles
Today's Birthdays & Anniversaries
The LINTON & BIRD Chronicles on Facebook
"Thanks for Visiting, come back when you can stay longer" Terry Louis Linton © 2007

Linton Research Fund Inc., © 1987-2020
Below 1920's photo of William Bird's (1706-1761) "Bird Mansion" in Birdsboro, Amity Township, Berks County, Pennsylvania.