Madeline "Madge" Elizabeth LINTON Bly (1922-1991)
Welcome to the Madeline "Madge" Elizabeth LINTON Bly (1922-1991) Project
Madeline "Madge" Elizabeth LINTON Bly
(August 29, 1922 - December 17, 1991)
(Project)
Terry Louis Linton © 1987-2013
Linton research Fund Inc., Publication © 1987-2013
LINTON & BIRD CHRONICLES, Volume IV, Issue 2, Summer 2009, ISSN 1941-3521
_____________________________________
Madeline "Madge" Elizabeth LINTON (1922-1991)
Clyde Branson Bly (1921-1994)
Madge and Clyde had three children:
Anthony Clyde Bly (1947)
Garry Wayne Bly (!949)
Elizabeth Ann "Betty" BLY Viar (1957)
***************************
LINTON & BIRD Chronicles this day in History © 2009
Madeline "Madge" Elizabeth LINTON Bly (1922-1991) was born on August 29, 1922, in the Linton Farm house near Hunters Station, Fort Hunt, Mount Vernon District, Fairfax County, Virginia.
Madge was the daughter of Charles "Charlie" Edward LINTON (1890-1958) and Annie Lucretia CRONK (1888-1954).
Madge was the great-granddaughter of Charles Greenberry CRONK (1817-1866) and Sarah Anna "Susanna" MILLS (1833-1866).
Madge was the 14th great-granddaughter of John LINTON (1450- ?) of olde Wynkill, County Staffordshire, England of the Virginia Lintons.
Madge was the 8th great-granddaughter of William GREEN ( 1620-?) and Ann of olde Stafford County, Virginia.
Madge is also the 9th great-granddaughter of William STONESTREET (1560-?) and Mary FORESTER (1567-?) of Hailsham, County Sussex, England.
Madge was the 11th great-granddaughter of Thomas HARRISON (1549-1604) and Joan Conndall (1553-1595) of Acaster, County Yorkshire, England.
*******************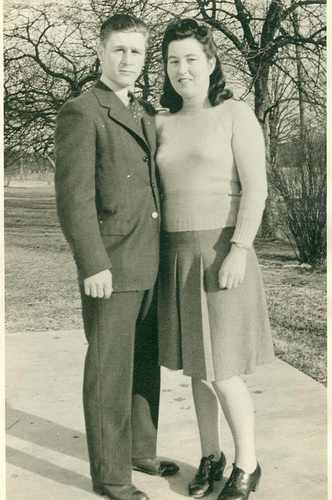 Clide Bronson Bly (1921-1994) and Madeline Elizabeth Linton Bly (1922-1991), They were married December 22, 1941 in Washington, DC.. Photo taken in1942.