Florence Avis LINTON (1912-1990)
Welcome
Florence Avis LINTON
(April 12, 1912 - July 18, 1990)
(Project)
Terry Louis Linton © 1999
Linton Family History (Descendants of Sir Arthur Linton 1614-1662) (Terry Louis Linton © 1999.) (Linton Research Fund, Inc., Publication © 1999) (printed in Spotsylvania County, Virginia. USA.)
Linton Research Fund Inc. © 1999
LINTON & BIRD CHRONICLES, Volume IV, Issue 1, Spring 2009, ISSN 1941-3521
_________________________________
Florence Avis LINTON Beavers (1912-1990)
Florence Avis LINTON, was the 2nd child of seven born to Charles Edward LINTON (1890-1958) and Annie Lucretia CRONK, (1888-1956). Florence was born on April 12, 1912, in her grandfather's old family farmhouse, in the front west 2nd floor bedroom. She was delivered by "Aunt" Annie Mae Young, a Negro Mid-Wife, living on Parker's Lane. The Linton farmhouse was located on LINTON Lane, near Hunter's Station and Fort Hunt, (now the location of Fort Hunt Elementary School) in the Mount Vernon District, of Fairfax County, Virginia.
Florence was christened and attended Sunday School at the Washington Street Methodist Church, Alexandria, Virginia. She had brown eyes and was a great crocheter. She attend the, two room, Snowden (Elementary) School on Point Road ( now Fort Hunt Road) and Collingwood Road, from 1918 to 1924. She graduated in 1930, from Cameron Valley High School, Fairfax County, Virginia.
in July 1928, sixteen year old, Florence, ran away-from-home to Washington DC. to mary James BEAVERS. On July 3, 1928, Florence Avis LINTON married James "Jim" S. BEAVERS (1908-1982), the son of James Wallace BEAVERS (1872-1957) and Lucy Jane PETTIT (1884-1959). Florence and James were married in Rockville, Montgomery County, Maryland, by Reverent James O'Sgood.
James "Jim" S. BEAVERS was born on March 30, 1908, in Accotink, Fairfax County, Virginia. "He was a farmer, fisherman, trapper, woodsman, a history teller and could tell you the name of any tree. He collected arrowheads and old relics. He died at home on Tuesday at 9 p.m. after suffering from cancer for 5 to 7 years." Jim died on March 9, 1982, at his home, in Hartwood, Stafford County, Virginia, at age 73. Jim was buried in Mount Comfort Cemetery, Fairfax County, Virginia.
In 1932, Florence went to work as a cook at River Bend Restaurant. River Bend Restaurant open in early 1932, it was a restaurant and a night club owned by the Nightingales. River Bend Restaurant was established when the new Mount Vernon Memorial Park Way opened. The restaurant was located at the present day intersection of Vernon View Drive and the Mount Vernon Park Way. The Nightingales had bought a small part of Florence's grandfather, Doctor Lewis Colbert Linton's (1803-1876) West Farm containing Frank Linton's Fishery and the Indian Camp. The Nightingales built a large log restaurant next to the old Indian Camp log cabins Florence first made 35 cents per-hour. River Bend was advertised as "25 minutes from Washington on the beautiful Mount Vernon Memorial Boulevard; Early American Atmosphere; Delightful view of the Majestic Potomac from the Dining Veranda, Fried Chicken, Country Ham and Dinners; A la carte at Popular Prices; Beer, Wines and Ale; Phone Alexandria 39-F-12; Dancing, Dave McWilliams Orchestra."
Florence was hospitalized in November of 1989, from a stroke. In December of 1989, She was brought home, in Hartwood, Stafford County, Virginia. She stayed there until her death, on Wednesday at 8:45 p.m., on July 18, 1990, at age 78. Florence Avis LINTON Beavers was buried, next to her parents and husband, in the Mount Comfort Cemetery, Fairfax County, Virginia.
Florence and Jim had three children:
Charles Richard Beavers (1929-2008); David Allen Beavers (1942); Sally Anne Beavers (1944)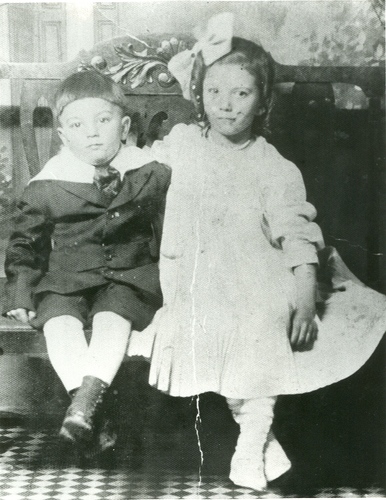 Six year old, Kirk Louis Linton and eight year old, Florence Avis Linton. Photo taken in 1920.
***************************************
How are you related to Florence Avis LINTON Beavers (1912-1990)
Florence's LINTON Family Tree.
Florence's mother, Annie Lucretia Cronk (1888-1956)
Florence's father, Charles Edward Linton (1890-1958)
Florence's grandfather, John Edward Linton (1838-1901)
Florence's 3rd great-grandfather, Isaiah Linton (1739-1775)
Linton Research Fund, Inc., HOME PAGE
Past BIRD Articles from the BIRD Chronicles
Past LINTON Articles from the LINTON Chronicles
History of the Linton Research Fund Inc., LINTON & BIRD Chronicles
Who is having a Birthday or a Anniversary today
The LINTON & BIRD Chronicles on Facebook
"Thanks for Visiting, come back when you can stay longer" Terry Louis Linton © 2007

Linton Research Fund Inc., © 1987-2019
_____________________________
Beloe photo: Florence Avis LINTON Beavers (1912-1990) in 1928 at age sixteen.