New Hope for the Jerusalem Mill
NEW HOPE FOR THE JERUSALEM MILL page four
NEW HOPE FOR THE JERUSALEM MILL
By Terry L. Linton Regional Reporter
Old Mills News © ISSN 0276-3338
Publication of the Society for the Preservation of Old Mills Vol. XV, No 3, Whole Number 60, © Summer 1987 page 10
LINTON & BIRD CHRONICLES, Volume IV, Issue 3, Fall © 2009, ISSN 1941-3521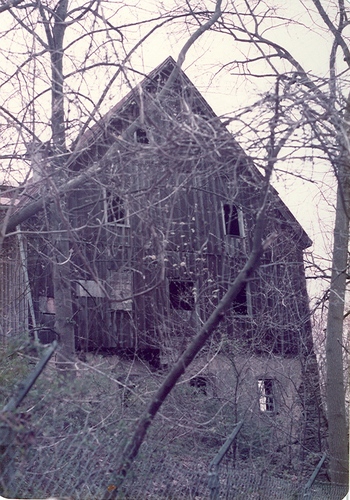 The south side, nearest to Little Gunpowder Fall, of Quaker master millwright Isaiah Linton's Lee's merchant water grist mill, later to be known as Jerusalem Mill. The mill located on Little Gunpowder Fall was completed in August 1772 in what was Baltimore County, now Hartford County Maryland. Photo taken in 1984 by ©Terry Louis Linton.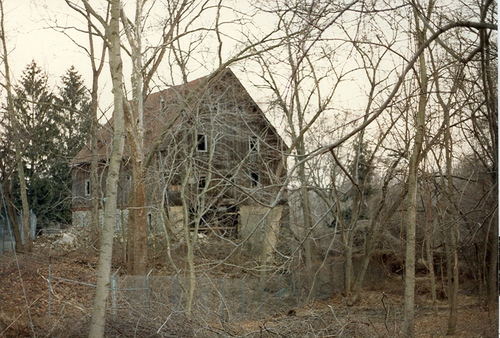 New life for millwright, Isaiah Linton, and, miller, David Lee's Jerusalem Mill may be just around the corner! We hope so! If you would like to help in the fight to save the Jerusalem Mill, please write to the Friends of Jerusalem Mill, 12514 Jerusalem Road, Kingsville, Maryland 21087. If you would like to apply for annual individual membership please send ten dollars for a Friend, twenty-five dollars for Supporting, fifty dollars for Sustaining and one hundred dollars for Lifetime membership.
_________________
Below: Evelyn Virginia BIRD Linton (1922-2012) in front of Jerusalem Mill in 2008, Evelyn was the wife of Kirk Louis Linton (1914-1987) the third great-grandson of Quaker master millwright Isaiah Linton (1739-1775) the architect and builder of the mill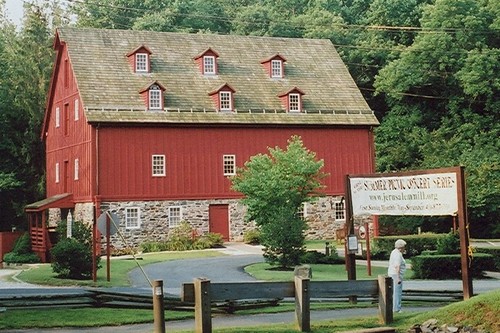 Jerusalem Mill in 1936 © Library of Congress archives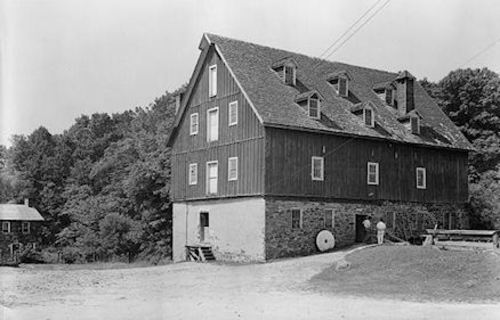 Excerpt from Isaiah LINTON (1739-1775) Master Millwright of Bucks County Pennsylvania and Baltimore & Harford Counties Maryland
On August 13, 1772, Isaiah Linton and David Lee again entered into another agreement, "said David Lee, miller, living near Joppa, shall enter into the said premises of said Lee's Merchant Mill, and set forth into the milling, grinding, and manufacturing business". Also, David Lee, "is agreed to pay a sum of one-half the said profits, emolument, and advantages, arising from said mill, for a term of four years, to said Isaiah Linton, millwright". 1
On September 7, 1772, Isaiah and Sarah Linton sold Lee's Merchant Mill and the Upper Jericho Saw Mill to David Lee as part of Bonds Water Mills, containing a 50 acre mill seat, mill dam, and saw mill. David Lee paid only five shillings for this valuable merchant mill and seat. This sum was just enough to cover the court recording fee. 2 Isaiah's forth mill, known as Lee's Merchant Mill and the Jerusalem Merchant Mill, stayed in continuous operation, for 188 years, until 1961, and is standing today, some 217 years later. The Jerusalem Merchant Mill is now under the care of The Friends of Jerusalem Mill, and is listed on the National Register of Historic Places.
Return to New Hope For Jerusalem Mill page one
The Forgotten Millwright, Isaiah Linton (1739-1775) Terry Louis Linton © 1986
Master millwright Isaiah LINTON (1739-1775) (Brief Historical Sketch)
How are you related to Isaiah LINTON (1738-1775)
Linton Research Fund, Inc., HOME PAGE
Past BIRD Articles from the BIRD Chronicles
Past LINTON Articles from the LINTON Chronicles
The LINTON & BIRD Chronicles on Facebook
"Thanks for Visiting, come back when you can stay longer" Terry Louis Linton © 2007