LINTON Coat of Arms & Crest
Welcome
LINTON Coat of Arms & Crest
Terry Louis Linton © 1975
Linton Family History (booklet, Terry L. Linton © 1975)
LINTON & BIRD Chronicles, Volume IX, Issue 3, Fall © 2014, ISSN 1941-3521
page established October 5, 2014
updated April 23, 2016
_________________________
The long-established LINTON surname is of Anglo-Saxon origin, and is locational from any of the several places in England thus called, for example Linton in Cambridgeshire, Derbyshire, Herefordshire, Devon, Kent, Yorkshire and Northumberland, or from three places in Scotland called Linton: firstly the village Linton in Peebleshire, now known as West Linton; secondly a parish Linton in, present day, Roxburghshire and thirdly East Linton, a village in Prestonkirk, East Lothian.
The Linton ancestors of Kirk Louis LINTON (1914-1987), on his father's side of the family can be traced and documented back to Parish Linton in old Peebleshire, Scotland. Kirk's LINTON ancestors on his mother's side of the family can be traced and documented back to Olde Wynkill, Barton-Under-Needwood, County Staffordshire, England.
Scottish Linton Coat of Arms & Crest, pen & ink illustration
By Terry Louis Linton© 1977
All Rights Reserved
Linton Research Fund Inc., Publication © 1987
Linton Research Fund Inc., © 1987-2016
Linton Bird Chronicles Volume II Issue 4, Winter © 2008- ISSN 1941-3521
Reproduction in whole or in part without written permission is prohibited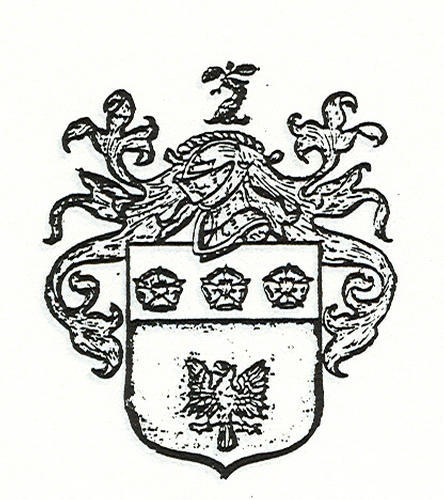 According to Burke's General Armory there is actually no such thing as a "family" coat of arms. Coats of Arms are registered to specific individuals. Under most heraldic rules, only first sons of first sons of the recipient of a coat of arms are permitted to bear their ancestor's arms. Younger sons may use a version of their father's coat of arms, but the rules of heraldry say that they must be changed, or "differenced", somewhat. If the bearer of a coat of arms called an "Arminger", dies without male heirs, his daughter may combine her father's arms with her husband's arms. This process is called "impaling". These formal principles give us an idea of the rich, protective tradition which has surrounded heraldry through the ages.
________________________
Linton Research Fund, Inc., HOME PAGE
The LINTON & BIRD Chronicles on Facebook
"Thanks for Visiting, come back when you can stay longer" Terry Louis Linton © 2007
________________________________
Below: English LINTON coat of arms