Jeff's Photo Gallery
LINTON & BIRD CHRONICLES, Volume IV, Issue 4, Winter © 2009-2010, ISSN 1941-3521
Welcome to the
Jeff Augustus "Gus" BIRD (1893-1954) Photo Gallery!
All images and text Copyright Linton Research Fund, Inc., © 1987-2010
LINTON & BIRD CHRONICLES Volume II, Issue 1, Spring 2007, ISSN 1941-3521
Jeff's Gallery is being updated constantly and is a work in progress!
Do You Have any photos you want to add?
Updated, June 25, 2009
_________________________________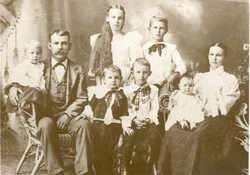 Jeff Augustus(1893-1954) "Gus" sitting on Thomas Jefferson Bird (1861-1931) standing Gertrude "Gertie" (1887- ?) and unknown; sitting Albert (1889-1908); Hugh Orlando (1890-1964); Harriet Melinda (1898-1949) "Hattie" sitting on Drusilla Gay Bird (1868-1948) Photo taken in 1898 in Birdsville, Fort Worth, Texas.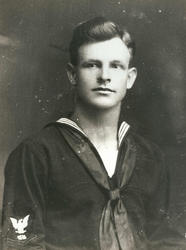 2nd Class, Jeff Augustus "Gus" BIRD in 1917, at Norfolk Navy Yard. Jeff joined the Navy in 1909, at the age of 16. Jeff was a World War I Veteran, the war lasted from August 4, 1914 to November 11, 1918. In 1917, Jeff, according to his military records, had blue eyes, 5 foot 7 inches tall with black hair and weighted 160 pounds. Jeff, in 1909, joined the crew of USS Louisiana Battle Ship, in Norfolk, Virginia.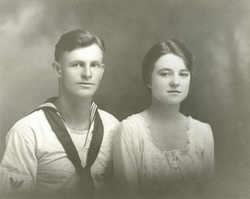 Jeff Augustus "Gus" Bird (1893-1954) and Clara Myrtle GRAY (1900-1988) Wedding photo, August 7, 1917: Jeff met Clara at one of the weekly dances held on board the USS Louisiana, at the Norfolk Navy Yard, Norfolk, Virginia. They were introduced to each other by Al Vogel, one of Jeff's shipmates. Clara's brother's Bruce and Edward Gray both worked at the Norfolk Navy Yard.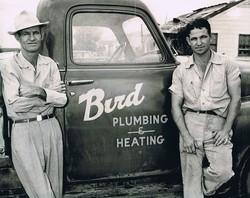 Spring of 1951, Jeff Augustus "Gus" BIRD (1893-1954) with his son, Earl Alford BIRD (1919-1991) in front of their BIRD Plumbing & Heating truck.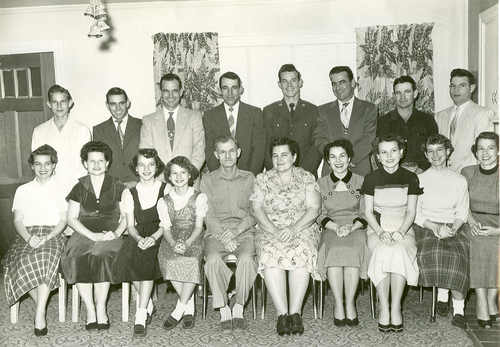 Jeff & Clara Bird. Christmas 1953, with their 16 children. Top row from left to right: David Brewer (1938-1997); Donald Milton (1926-1999); Guy Edward (1918-1957); Albert Irvin (1925 -2008); Franklin Delano (1934); Jeff Augustus, Jr. (1923); Earl Alford (1919-1991); Carlton Norris (1931-2002); Bottom Row Left to Right: Iva Lee (1930-1993); Evelyn Virginia (1922); Patricia Margie (1941); Beatrice Jean (1942); Jeff Augustus Bird (1893-1954); Clara Myrtle Gray Bird (1900-1988); Margaret Druslla (1928); Frances Dell (1934); Mary Louise (1936); Myrtle Elizabeth (1921-1996).