Evelyn Virginia BIRD Linton Oral Interview
LINTON & BIRD Chronicles, Volume IX, Issue 1, Spring © 2014, ISSN 1941-3521
Evelyn Virginia BIRD Linton Oral Interview
(with Son Ken Conducted in September 2010 and Updated in June 2012.)
Ken Linton © 2014
Linton Research Fund Publication © 2014
LINTON & BIRD Chronicles, Volume VIII, Issue 4 Winter © 2013, ISSN 1941-3521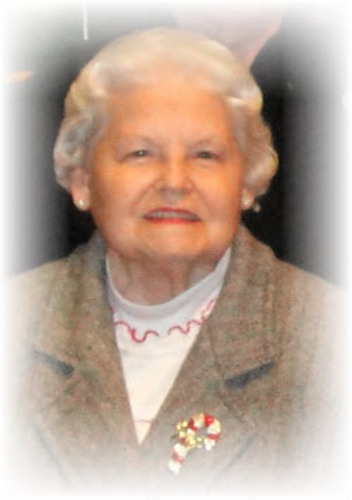 Above: Evelyn Virginia BIRD Linton (1922-2012) photo taken in 2009................................... Below: Evelyn, in 2010, in front of the house she was born in 1922, on the corner of Jeff & Grace Streets.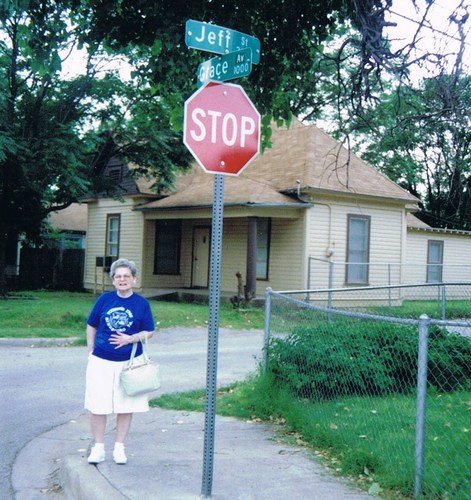 I was born on May 17, 1922, in the Riverside district of Fort Worth, Texas, in a wood framed house at the corner of "Jeff" and "Grace" Streets. My father's name was Jeff Augustus Bird ("Gus" to most people), Daddy helped his father, build the house that I was born in. Daddy was a journeyman plumber. My mother's name was Claire Myrtle GRAY Bird. I was the fourth child to be born of a total of 16 kids (eight boys & eight girls).
The whole family in 1953; Evelyn is the 2nd from left on the first row.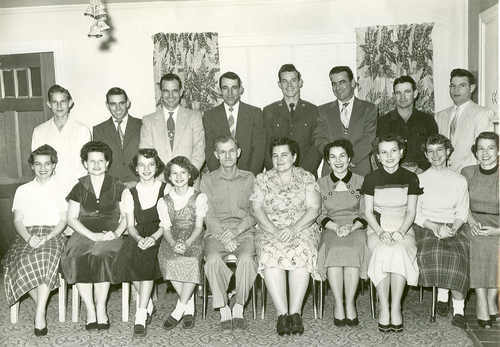 In 1924, the family moved to Dallas were Daddy had found work. We had a border collie dog named "trixie". I remember flying a kite one day with my father and my older brothers, the cord got wrapped around my left leg causing a real bad burn. I still have a scar on that leg to this day. My brothers Albert & Donald were born while we lived in Dallas.
In 1927, we moved to Brownsville where Daddy's Mother and Father had just opened up a grocery store. Daddy found work as a plumber. My sister, Margaret, was born down in Harlingan, on April 17, 1928. I remember that the whole family went to a lake to swim and fish for the weekend. The kids camped out in "the back of the pickup truck"; while mom and dad slept in the car.
Daddy moved us to Galveston for a while, in 1928, for work. I remember all of us going to a beach to swim and play in the Gulf of Mexico.
In 1929, Daddy found work in Austin. There I attended Stephan F. Austin Elementary School, on Rio Grande Street, for grades 1st through 3rd (1929-1931). I remember taking part in the May Pole Dance in either the 2nd or 3rd grade. This was the depression years and Daddy could not find work as a plumber, so he took a job as a laborer doing odd jobs for the city and he was paid 25 cents/day. The Salvation Army provided us with a Thanksgiving dinner in 1930. In early summer of 1931, we had to move out of our city house into an old house in the country because we did not have money to pay the rent. This old house had no in-door plumbing and no electricity. Momma cooked over an open fireplace in the house. Kerosene lanterns and candles were used for light. We kids had to bring buckets of water from the nearby creek every day. The Salvation Army provided us with clothes.
In 1932, I remember Momma having a nervous breakdown due to the "hard living conditions" out in the country. Daddy decided to drive Momma back to her family home in Norfolk, Virginia to help her to recover. To help pay for the trip, Daddy received a "lump sum pension" payment from the government for being a World War I veteran. So, all ten of us kids went to live with Uncle Johnny (Daddy's brother) in Austin for several months. Then, it was decided that Uncle Johnny would take all of us kids (except baby brother Buster) up to Fort Worth to live with our grandmother, Drucella Gay Bird, and Uncle Frank (19 yrs old). They lived in the Oakhurst district of Fort Worth on Buff Street. Baby Buster (Carlton), was to stay with Aunt Lilly in Austin for a while. During the driving trip to Ft. Worth, our dog "trixie" ran away and couldn't be found. I attended Oakhurst Elementary school at this time (1932 & 1933).
Momma & Daddy returned from their Virginia trip after several months (I don't remember the month). Then we all moved into a house on Race Street in the Riverside district of Ft. Worth. I attended Riverside Elementary School. Sometime in 1933, we had to move into a house on Channault Street in Riverside because Daddy couldn't pay the rent. The twins, Francis & Franklin (Cissy & Buddy) were born at this time. And then later that year, we had to move into a 2nd house on Channault Street. I think that we even had to move again into a house on Paradise Street for several months.
In 1935, we moved into a house back on Race Street, in the Riverside district of Fort Worth. I remember walking many times from our house to the apartment of my brother Eddie and his wife Tommie there on Race Street. Tommie had a sewing machine that I learned to use to make school clothes for myself and the kids.
Tommie & Eddie Bird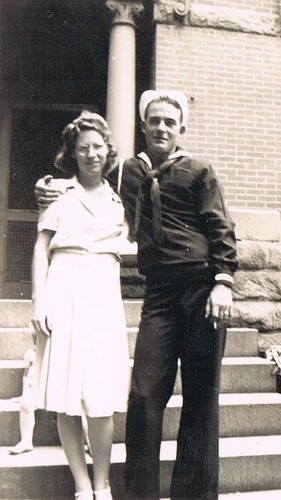 Sometime in 1937, we moved into Daddy's newly finished plumbing company's workshop (Bird Plumbing & Heating) located on Blandin Street. The warehouse-like workshop was divided into five rooms. The boys (Earl, Snookum, Albert, Buster, Donald, & Buddy) shared a room with Momma & Daddy. The girls (me, Sister, Potsy, Margaret, Cissy, & Mary) shared a separate room. I learned to ride a bicycle there in the shop area. I remember that we used to play dominos and football there also. The family lived there until sometime in 1944. I started attending Riverside High School about that time.
Margaret Drusilla BIRD Norwood in front of Bird Pluming & Heating Shop on Race Street in 1947.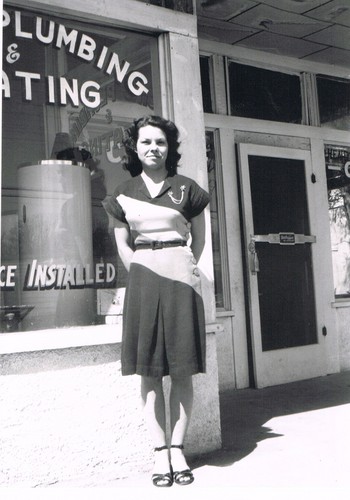 Sometime in 1938, I was involved in a bad car wreck one Saturday afternoon on the way to Wichita Falls, Texas (on Hwy #287 I think) with the William B. Hall family--- a plumber & a close friend of Daddy's. I think a car load of drunks lost control of their car and crossed the highway divider and hit our car. Mr. & Mrs. Hall were in the front seat and were hurt pretty bad. I was in the back seat with their son Clyde, and suffered a concussion when my head hit the back of the front seat (above my left eye). This was way before seat-belts were required. I was taken to a hospital in Fort Worth, where I stayed for 3 days. My face was black & blue for several weeks. Clyde Hall was not hurt at all.
During those years that I attended Riverside High School (1937-1940), I remember working in the high school library for $6.00 per month (cataloging & returning books to shelves). I was also a member of the sewing club; I played on the girls' softball team; and I participated in track & field events. I went to most all of the high school football games with my best friend Sydney Anna Carter. Mr. Carter took both of us to our senior prom dance. The school's librarian (Mrs. Ray) gave me her daughter's old white prom dress to wear. Momma gave me a red carnation corsage to wear with the dress---she said that I looked really nice. I learned to make most all of my clothes, especially dresses, during this time. I remember "walking" into Ft. Worth many times to shop for clothes materials----walking was "faster" than riding the bus from the Riverside area. I also rode the bus to visit the Hall family who lived in the Polytechnic district. I would spend some weekends with them sewing, going to the movies, and taking driving trips to Wichita Falls where they had relatives. Mr.& Mrs. Hall liked to come and visit with Momma & Daddy on a regularly basis. They all liked to play cards (poker & penny pinochle mostly), and dominos while drinking beer.
Evelyn Virginia BIRD Riverside High School year book photo in 1938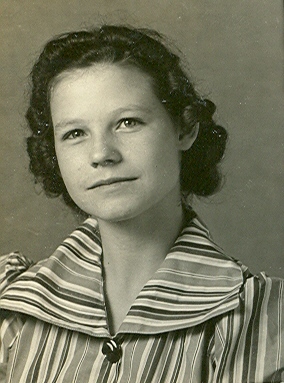 Sometime in 1939, Daddy was in a very bad car accident. I think it was on a weekend, and he was taking Uncle Tom (Thomas Jefferson Bird), my brothers Albert & Donald, and a family friend (Pete Hollingsworth) frog hunting. I think an on-coming car lost control and swerved towards them forcing Daddy to steer off the road (I don't remember the road's name) and hitting a concrete barrier. The impact forced the car's steering wheel into Daddy's chest. Uncle Tom suffered a broken leg; Pete Hollingsworth was killed instantly; Albert & Donald, who were in the back seat, were thrown out of the car and into a field and got wrapped in barbed-wire. Daddy was taken to a hospital in Ft. Worth---I don't remember the name. He was placed in an "iron lung" to help him to breathe---we were told that he was the first patient in Ft. Worth to be on one. That's when Earl (Mom's older brother) had to support the family for a while by running the family business (BIRD Plumbing and Heating, "Don't cuss call gus").
Below: . "Gus" and Earl Bird next to their Bird Plumbing & Heating truck in the Spring of 1951.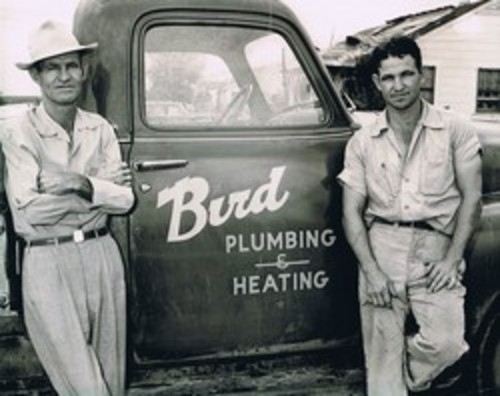 Evelyn Virginia BIRD Linton Oral Interview (with Son Ken Conducted in September 2010 and Updated in June 2012.) Continued on page two.